Why Bug Bully Rodent & Pest Control
Is Right For You
At Bug Bully Rodent & Pest Control, our mission is to bring back honest and straightforward pest elimination services and guarantee the elimination of your pest problems. If that's what you're looking for in your pest control company, Bug Bully Pest Control is the right choice for you.
Experience in the pest control industry since 2006.
Bug Bully Pest Control was founded  in 2013 by Mike Wrightson, a Clark University graduate.
Quality workmanship is always guaranteed.
You can rest assured your pest problems will be completely eliminated.
Exclusion work is our focus so that pests don't return.
Bug Bully Pest Control is fully licensed in the state of Massachusetts for both restricted-use products and eco-friendly products.
Our products are safe for children, pets, pollinators, and birds of prey.
Services are available within 24 hours after contact.
We do what we say and always make it right with our customers.
Free estimates.
Our treatments are tailored to your specific pest control needs.
Home pest control and commercial services are available.
Our services are always backed by a warranty.
Year-round pest protection
Safe and effective
Permanent exclusion services to keep mice out
Convenience pay options
Foundation wrap/permanent mice control
As Marlborough's local, family-owned pest control company, Bug Bully Pest Control provides our customers with the services you need for a pest-free home or business.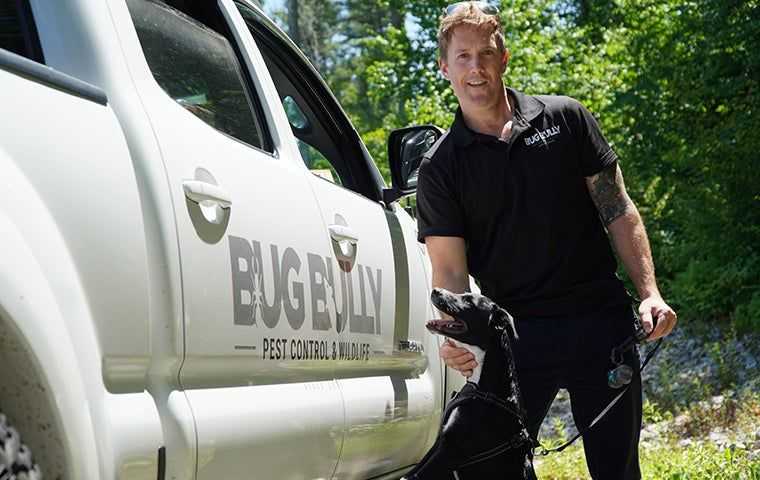 When you need home and commercial pest control for your property, turn to the company the locals trust. The technicians at Bug Bully Pest Control are Marlborough's local and experienced leaders in the pest control industry. You'll receive unmatched quality, service, and results when you choose us. Get your free estimate by contacting us today.