Central Mass
Bat Control & Removal
Local, family-owned, operated bat control company specializing in keeping bats out of your home for good. 
Serving all of Worcester County, Metro-West, and Middlesex Counties in Massachusetts.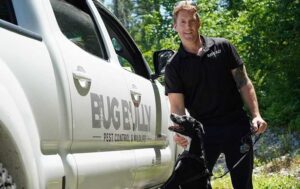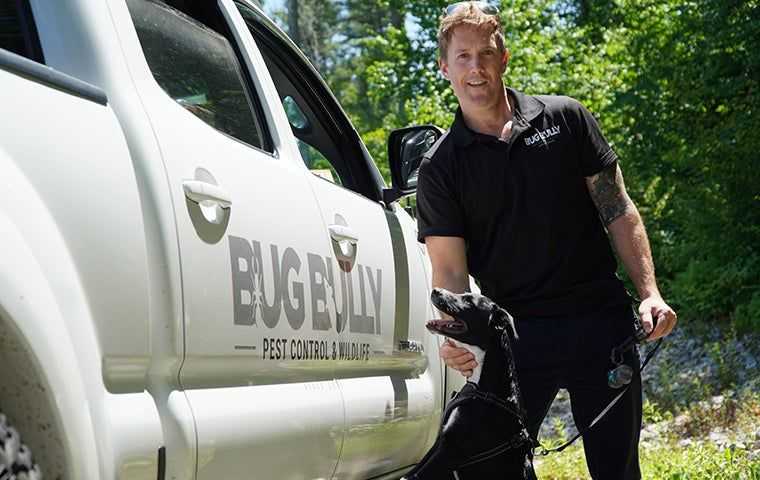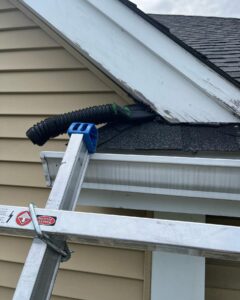 Send Bats Away With Bug Bully Bat Control
Bats are flying mammals found in almost every region of the world, and they're generally considered to be highly beneficial to their environments. However, when bats are found nesting in your New Jersey business or home, it's difficult to think of them as beneficial.
Professional bat removal service that utilizes the "one way door" method of exclusion is a humane and effective approach to safely remove bats from a structure while ensuring they cannot re-enter. This method aims to encourage the bats to exit the building through a one-way device, typically a specially designed flap or valve, without allowing them to re-enter.
Here's a step-by-step overview of the process of our service:
Inspection and Assessment:
Professional bat removal starts with a thorough inspection of the property to identify entry points, bat roosting areas, and assess the extent of the infestation.
Sealing Entry Points:
Before installing the one-way devices, all potential entry points are sealed, except for the primary exit points. This prevents bats from re-entering the structure through any other openings.
Installation of One-Way Doors:
One-way doors, typically made of durable materials like plastic or metal, are installed over the identified primary entry and exit points. These devices allow bats to exit freely but prevent them from re-entering due to the design of the door.
Monitoring and Observation:
Professionals will monitor the one-way doors to ensure the bats are effectively leaving the structure. This may involve observations during evenings when bats are most active.
Removing One-Way Doors:
After a suitable period, once it is confirmed that all bats have exited and are not attempting to re-enter, the one-way doors are removed.
Final Sealing:
The remaining entry points are permanently sealed to prevent future bat re-entry.
Clean-up and Sanitation:
The area is thoroughly cleaned and sanitized to remove bat guano (droppings) and any other remnants. This may also involve addressing any damage caused by the bats.
Preventative Measures:
Recommendations for preventative measures are often provided to the property owner to deter bats from returning to the structure. This may include habitat modification, improving building conditions, and implementing deterrents.
Vivian Neseim
November 13, 2023
Really kind and thorough! Thank you!
Chris Cella
November 9, 2023
Called and they should up the next day.
Debbie Mccabe
October 26, 2023
Bug Bully responded quickly and conducted free inspection of my basement and attic for mice activity. Came back the next morning and treated both areas for mice control. Very professional and informative. I would highly recommend Bug Bully for pest and rodent services.
Michael Sturtevant
October 26, 2023
These guys do great work. I called yesterday when my home was in a swarm cloud of lady bugs. They responded within 24 hours & made sure I was treated fir any foreseen issues through the winter. Outstanding service!
Helio Almeida
October 19, 2023
We've been using Bug Bully since we moved in 3 years ago and they have been extremely responsive, knowledgeable and professional. Highly recommend to anyone looking for this service.
Mike Ogar
October 17, 2023
Nathan went above and beyond. Hard worker.
KOOKIE TORO
October 12, 2023
Nathan, thank you, you were incredibly helpful, knowledgeable and awesome to work with. Appreciate you and the bug bully team!!
David Gonzalez Jr
October 5, 2023
Professional, knowledgeable and most importantly available
Over 17 Years Of Experience
Service Available Within 24 Hours
Contact Us For Your Free Estimate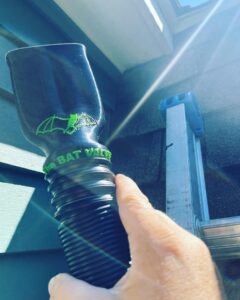 What are signs of bats in my home?
Bats are known to find areas to overwinter, typically from October 16th to March 31st. During this period, as the weather becomes colder and insect activity decreases, bats seek out hibernation sites to conserve energy and survive the winter. These hibernation sites are often caves, mines, tunnels, or other sheltered locations that provide a stable and cool environment.
Bats go into a state of torpor during hibernation, which is a state of decreased metabolic activity and lowered body temperature. This helps them conserve energy and survive on their fat reserves until warmer temperatures and increased insect availability prompt them to become active again in the spring.
It's important to note that specific behaviors and timing can vary slightly based on the species of bat and the local climate conditions. Different species of bats may have variations in their hibernation patterns and preferred overwintering sites.
Bats are flying mammals found in almost every region of the world, and they're generally considered to be highly beneficial to their environments. However, when bats are found nesting in your Massachusetts business or home, it's difficult to think of them as beneficial. 
Are bats protected?
According to state law, there are very specific times of year that you can legally get rid of bats that are nesting in your home. The lifecycle of bats native to our area dictates the times that exclusion work can take place and the times that exclusion work cannot take place.
Exclusion may take place:
April 1

st

 – April 30

th

 – bats may be present, but pups are not yet born
August 1

st

 – October 15

th

 – bats may be present, but all bats should be flying
Exclusion may not take place:
May 1

st

– July 31

st

 – motherless bats and their flightless pups may be present in the roost
October 16

th

 – March 31

st

 – bats find areas to overwinter
Contact Us Today To Schedule Your FREE Estimate!
Subscribe to our YouTube channel.